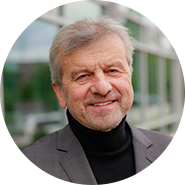 Larry Podhora,
Architect AIBC, MRAIC — Principal LPA Inc.
An architect with over 30 years of experience in all aspects of architectural practice, Larry brings a wealth of professional knowledge, passion for design excellence, and project management to the team. Larry provides the industry knowledge and team leadership that brings success when consulting with municipal authorities, specialists, clients, and builders in a broad range of project types and sizes. His portfolio includes award-winning architecture on projects bridging the spectrum of building types—with a particular emphasis on efficient, high-performance, sustainable, and cost-effective buildings.

"Our approach to designing for the built environment is integrated, innovative, and pragmatic. We believe that great design is not an add-on, it is the outcome of a process that allows for excellence in each aspect of our work.

While we scrupulously service the needs of our clients, we do so in a way that always improves the environment and enriches the experience of our building designs for its users or buyers. Our clients appreciate the business and environmental value that great design and effective project management bring to every one of their projects — visually, functionally, and commercially.

As part of an interdisciplinary and integrated group of design disciplines, we also collaborate directly and continuously with our colleagues. Although we practice as separate firms, we rely on the benefits of sharing our resources and various experience. We are knowledgeable, efficient, and accountable. Above all, we listen to our clients…no matter how deep our experience, each project, and each client have their own unique parameters we must address.

We understand the design profession from the point of view of the builder, developer, owner, and user because we service all of these professions frequently on projects including residential, commercial, institutional, and industrial."

Larry Podhora, AIBC, MRAIC
Both LPA Inc. and the Krahn Group focus on a collaborative process where clients and consultants work together to create environmentally sustainable and commercially successful developments that embody the principles of great design at the service of our clients' needs.

INTEGRATED
INTERDISCIPLINARY TEAMS
We share our work environment with all disciplines and collaborate frequently when establishing early designs to make them efficient and affordable

DEVELOPMENT
MANAGEMENT SERVICES
Navigate the ever-increasing complexity of permit processes and reduce approval times with our team managing specific requirements of each municipality

DIVERSITY OF
PROJECT EXPERIENCE
We have a well-established understanding of tilt precast, conventional, pre-eng steel, and wood frame technologies by working directly with builders and repeat clients

MAXIMIZE
LONG-TERM VALUE
Our deep knowledge of jurisdictional processes often provides ancillary benefits such as a greater variety of uses and greater profitability

MINIMIZE
PROJECT COSTS
Our designers and technologists understand the practical aspects of their work and can determine innovative solutions

CONSULTATIVE
& HOLISTIC APPROACH
We value the unique needs of our clients and their projects and only offer insights and solutions once we fully grasp the parameters and goals of each project
Reach out to us today to learn how Krahn can help your project succeed