Mechanical Engineering With The Krahn Group Of Companies
Are you in the early stage of planning for upcoming development and searching for a trusted mechanical engineering team in western or eastern Canada? KD Mechanical Consultants Ltd (KDM) has you covered! Partnered with the Krahn Group of Companies, KD Mechanical Consultants is proud to offer leading support for a wide variety of projects across both the private and public sectors and ranging in scope from smaller builds to large-scale municipal level projects. Our team believes in providing clear and consistent communication throughout the entire project from initial design through to the end of construction. With offices in Abbotsford, Vancouver, Edmonton, and the ability to assist with projects in eastern Canada, our team has everything you need to build safe, smart, and with confidence.
KDM's Mechanical Engineering services include:
Development and implantation of HVAC Systems
Plumbing system design and execution
Establishment and/or evaluation of existing fire protection systems
Construction overviews and support, including site meetings and observations, as well as quality control
Energy modelling
Building evaluations and much more.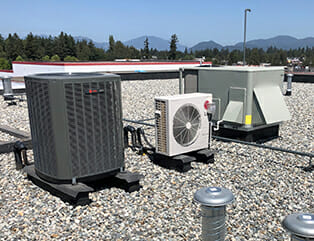 Your All In One Engineering Source
When you partner with KDM Mechanical, you also gain access to the full breadth of services offered by our industry-leading partners, the Krahn Group of Companies (KGC). With nearly 40 years of experience behind the KGC, your project will benefit from having the ability to access multiple engineering services in one place including:
Building Design
Civil Engineering
Structural Engineering
Electrical engineering
Landscape Design
Interior Design
Project Management, and more.
Avoid the costly headaches associated with dealing with multiple contractors and give yourself the benefit of proven industry leadership. Core benefits to choosing KDM and the KGC include a proactive process that saves you time and money, cost-effective support, vetted document review and more. When you need to build smart and efficiently, you need to partner with the Krahn Group of Companies!
Looking to enhance your career and take on a new challenge?
KGC is hiring! With openings available across all disciplines Canada-wide,
the Krahn Group of Companies is looking for leading engineering minds to
join our team and help us build a better tomorrow.
Learn more by contacting our team today.